WE ARE NOT TAKING BOOKINGS AT THIS TIME – PLEASE CHECK BACK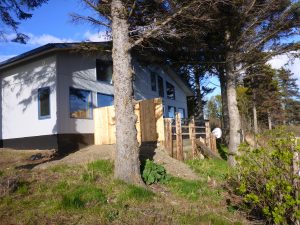 Welcome to our  vacation home available from May  to Labor Day. We encourage you to take advantage of all that our home and Homer has to offer. You can reach us  at (907) 399-6002 or email pete@captpete.com for rates and availability.
Anchor Watch is close to the highway and close to town.  We are  ideally located to take advantage of the view of the islands and mountains across the Bay. You may also see Mt. Augustine in Upper Cook Inlet.  We have spent countless hours watching the boat traffic, enjoying sunrises and sunsets, and viewing the wildlife including sea otters, surf scoters, and the occasional whale. Because there are eagles that nest along the bluff,  the deck of Anchor Watch is also a perfect place to get a photo of a soaring eagle.  This view is what you come to Alaska to see.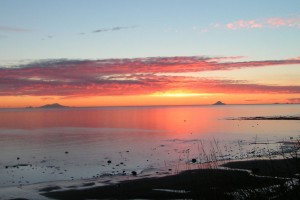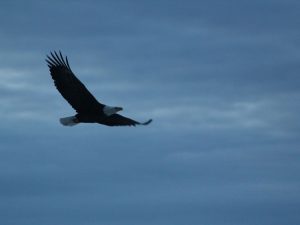 There is a gas barbecue on the back patio for you to grill on. We have built a wind-break to make this easier when the day-breeze kicks up in the afternoon from the Bay.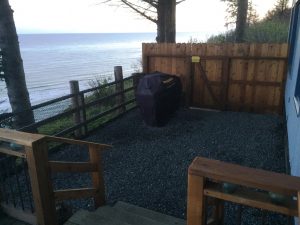 If you would like to steam some crab legs, we ask that you do this outside as boiled-over crab juice can be a big chore to clean-up. There is a side burner on the bbq for this very purpose. We have a long stainless pot in the pantry for you to use to steam those huge king crab legs that are available at Coal Point Trading Company.
Although we encourage you to enjoy the yard and the awesome view it affords, we do ask that you stay clear of the bluff out front. This is an active bluff in that there are overhangs that from time-to-time break off. We want you to be safe, so stay clear of the bluff edge. We have watched this bluff for over 15 years and although not any big events have occurred, there as been some small events that warrant caution along the edge.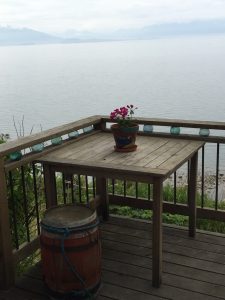 Bishop's Beach is a short drive into town and a good access to the same beach that is out front, but a good two mile hike to get out there!
We want you to make the most of your time on Homer Alaska's Kachemak Bay.  Whether you want to go fishing, hiking, shopping, or just want to enjoy our local cuisine, there are many opportunities here in Homer. Perhaps you will discover a new gem to suggest to our guests! Do not hesitate to suggest  anything that you think we might want to add to make our guests more comfortable. Thanks for choosing the Anchor Watch enjoy your time in Homer!
PO Box 3353
Homer Alaska 99603