Many happenings since our last entry! Captain Pete ran a Whale Watching boat in Juneau for two years, the Julia Lynn for Eric, the Whistler for Sean and Gerri Martin, and is currently running The Nauti Lady for Bob's Trophy Charters. We had a wonderful family reunion in La Conner Washington with all the Wedins in 2018. We acquired a cat named Etta, sold our Homer house online because of Covid, and bought a house in La Conner during Covid. We finally made it back to Hesketh Island and Homer! Enjoying all the things that come with having a wonderful family.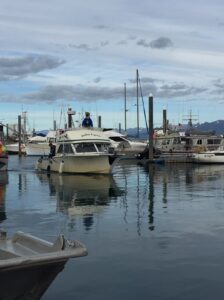 Dear Friends of Capt. Pete's Alaska:
It has been our pleasure to serve as your guide to Alaskan adventure fishing trips since 1997 here in Homer. So many great memories and friendships will be enjoyed for years to come. The time has come for us to step back and pass the helm over to a new owner. We would like to express our sincere gratitude for your loyal support over the years and we are happy to say that we believe you will find the new owner to be a friendly face and awesome fisherman.
Eric Lehm has been running the "Storm Petrel" out of North Country Charters here in Homer for four years. During this time, he has built a following with his reputation for good customer service, safe operation, and successful fishing. And yes, Eric does wear a beard! You can see a short bio and photo at www.northcountrycharters.com. Eric has decided to book his charters with North Country Charters. You can request a date with Eric on the "Julia Lynn" by calling 800-770-7620 or visit the website listed above.
I would encourage you to book early for 2015 fishing dates. Those of you that have fished with the "Julia Lynn" in the past will be given priority accommodation, but reserving your preferred dates early is always advised. If the "Julia Lynn" is already booked for your desired date, North Country will be able to accommodate you on one of their other boats. The office crew at North Country will be taking care of deposits, licenses, and help with lodging.
Again, Debra and I thank you for your business in the past and we know that you will enjoy fishing on the "Julia Lynn" with Eric.
Sincerely,
Pete Wedin, Former Owner/Operator of Capt. Pete's Alaska