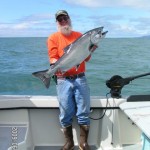 It is not often that I get to actually fish for myself in June, but with a rare week off, I took time out from work on the homestead to fish for king salmon today. I actually left the harbor with only getting the engines warm enough to change the oil in mind, but after two hours of trolling up the Bay and seconds before giving up to head back to the harbor, we hooked up. Many of you will remember Kenny Cardwell, who worked for me back in 2002 and 2003. Well, Ken has been helping us around the house in between working on the North Slope and going to Bristol Bay to commercial fish for red salmon, so he went along to see if we couldn't find a fish for dinner. It was just serendipity that this 26# king bit the hook as I was getting ready to pop it loose from the downrigger.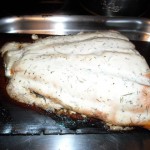 We shared over half of the bounty with friends on the way home and then put this piece on a piece of cedar and into the grill. When it was half done, I slathered it with a mixture of mayo, yogurt, lemon juice, and dill. I squeezed half the lemon onto the fish before grilling. It was absolutely scrumptious and I must thank my daughter-in-law, Jessica for giving me her recipe for the topping. I had been in Eagle River last Monday and she had cooked a fillet of red salmon that way and I was quite impressed. Am sure it would be good on halibut as well. I also know for a fact that it will be awesome as a cold leftover tomorrow.
This week Fish and Game here in Homer closed the Anchor River to king salmon fishing for the first time in many years. Low escapement is the reason. We are just now beginning to see the bait arrive and some salmon show up along the bluff (and at least one from up the Bay!) Hopefully the kings are just a little late and not missing in action. Halibut continues to be very good with larger fish arriving as the days go by. The weather has been awesome.