As many of you know, Debra and I bought a small RV: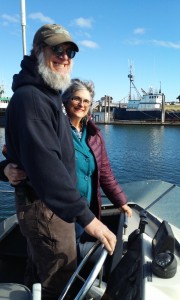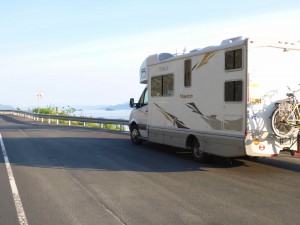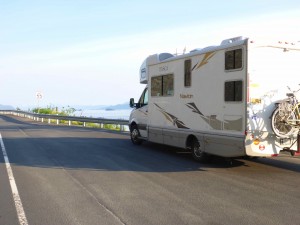 So, the idea was to have a rig that we could explore new options to the 35 winters spent in Alaska. We have fished, either commercially or for charters every season since moving to the Kenai Peninsula in 1981. It has been a fantastic journey, but the time came last December to say good-bye to Captain Pete's Alaskan Experience and begin drawing on that experience to move in a different direction. After a lot of searching and filling out applications and resumes, somehow serendipity stepped in and led me to Allen Marine Tours in Juneau. Actually, their facility is in Auke Bay near the Alaska State ferry terminal. So, once a phone interview was completed and references checked (thanks Mike, Kelly, and Tabor), the Port Captain and Director of Operations both agreed to give an old guy a chance. What a leap of faith. It was kind of intimidating, as we arrived in Juneau aboard the TAKU, the rain was really coming down. Had I made the right decision? Well, with the last two weeks hitting the 70 and 80's and very little rain the last half of May, life is good. Couple that good weather with the patience that these young people that run this company (quite well) afforded me and it has added up to one awesome job. There was a steep learning curve for me going from twin screw props to four screw jets, but I have made the transition and frankly, I love it. The boat I am assigned to right now, the St. Juvenaly :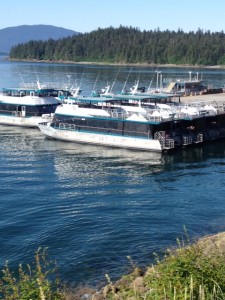 So, back to the RV. I am living in it in Auke Bay, just a driveway away from where the shuttle picks up all of AMT crews for work. It couldn't be a better arrangement. I can walk to the PO, a waffle place, laundry, a bar, a Thai restaurant, and the harbor is just an easy bike ride. My friend, Stave Zimmerman (Montana) would be jealous of the harbor's parking fee collection system. Simple, easy, inexpensive ($1/hour) and best of all, labor-free! Anyway, Life is Good, although could be better if Debra was here. She is still in Homer, working for Pathfinder and managing the sale of our home there. Well, she would like to be managing a sale. Right now, she is just managing the realtors that are showing it. If you are looking for a house in the Homer area, you should take a look! I will be posting some whale photos soon. I go at least five days a week, one, two, or three trips a day. These 78′ boats carry 150 souls….amazing!
All my best to all of you. I DO miss fishing, but I have some shore rods here and eventually will figure out how to catch a salmon from the beach!
If interested, my address is P.O. Box 210871 Auke Bay, AK 99821